I-95 Exit Guide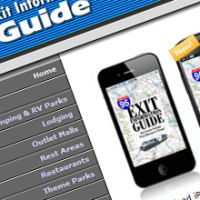 The I-95 Exit Guide is the largest and most complete road travel resource of its kind on the Internet! Exit services, rest areas, attractions, road construction, travel weather, gas prices and more… for Interstate 95 from Maine to Florida!
In addition to the exit service listing, the I-95 Exit Guide includes a great travel forum where visitors discuss a myriad of I-95 topics from lodging and fast food to the strange and unusual. Highway Gourmet gives readers the opportunity to report on their favorite (or worst) I-95 dining experience. A CityGuide section features cities and towns along the way. RoadNews reports on the latest I-95 happenings including construction and traffic related issues.
You name it, and the I-95 Exit Guide probably has it. Plus, you can buy their hardcopy publication or eBook by the same name.